"Thank you Jon. The trio of Modern Wall Sculptures brings a lot of good energy to our home."
"Another Beauty from a Very Talented Artist with a Unique Modern Art Vision!"
"If everyone would be like you Jon, the world would be a better one"
"Jon Allen, you are an amazing artist what a present for me!! Great Modern Art. Loving it every day."
"Amazing Vibrant Contemporary Paintings ! Very pleased. Great service!"
Teal Metal Wall Twist Sculpture – Abstract Modern Wall Art Decor – Jon Allen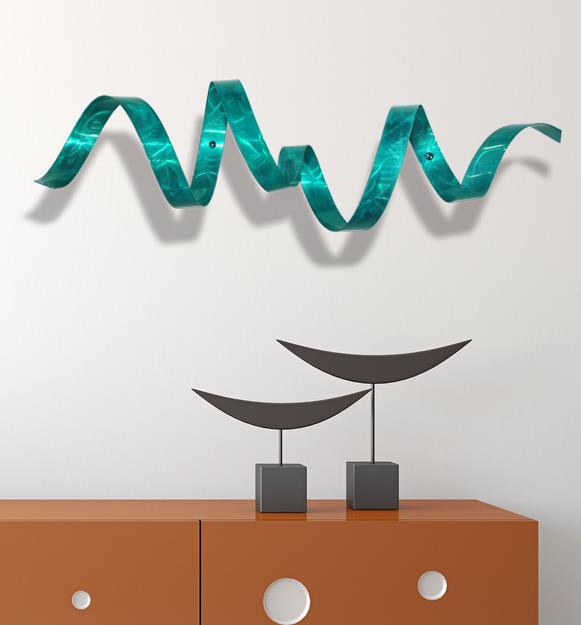 ITEM DESCRIPTION
Title: Teal Twist
Color:Teal
Dimensions: 44″ x 10 in x 10 in (111.7 cm x 25.40 cm x 25.40 cm) with a variance of 1 to 2-inches in length due to the handmade nature of this unique piece.
This original handcrafted wall decor will enhance any nook in your home with a sophisticated, elegant look.

The artwork is hand-etched and textured on high quality, lightweight aircraft grade aluminum. Each piece is hand-painted with blended and formulated colorful dyes/pigments and finished with a UV protective clear coat.

Every piece is handmade and signed by American artist Jon Allen. Includes a certificate of authenticity.

This eye catching wall accent is the perfect complement for your contemporary, modern, or traditional home decor. Original metal artwork comes to life in natural light or under gallery/track lighting for dramatic effect.

With fast and careful shipping, excellent customer service, and a truly great

value for original handmade art made with the highest quality materials, order with confidence today!
QUALITY METAL ART YOU CAN ADMIRE ANYWHERE!
The search for the perfect wall accent to complement your decor is over! Invite excitement into your kitchen, dining room, bedroom, living room, bathroom, or that nook in your home that needs something special! Whether it's a single panel or an attractive and sophisticated set, we have the perfect size, shape, color, and style to enhance your modern, contemporary, or traditional decor. Enjoy the art in outdoor areas like your pool deck, patio, cabana, sunroom, or porch. You can arrange these pieces in a number of attractive configurations to enjoy limitless display options! Whether you need a conversation piece for the living room or an accent that has to be just the right size to fit that nook in you home, we've got a beautiful option for you. Handmade with high quality aircraft grade aluminum, these pieces are made by hand with care and are built to be admired for years & years to come!
WHY METAL WALL ART IS UNIQUE
This original wall décor isn't just another generic painting or bland reproduction print on canvas; it's a stunning hand-painted piece of original 3D art that will reveal new aspects of itself in different light. Whether in natural light from a nearby window or under gallery lighting for a dramatic effect, the art will appear to come to life before your very eyes. Metal art work depicts movement and motion in a way other art simply cannot thanks to the amazing interplay between the color and light.
EASY INSTALLATION
The 3D wall art arrives with mounting hardware included for simple hanging. The aluminum artwork is lighter than other metal artwork you may have handled before. Due to a wide variety of wall types, nails/screws are not provided.
LIGHTING SUGGESTIONS
All sculptures and wall art are photographed under vibrant light sources. The greater the light source, the more dynamic the conversation becomes. Track lighting with quartz halogen bulbs, flood lights, or LED lamps are suggested. A rheostat or dimmer switch offer the flexibility to adjust the lighting from full range luminous brilliance to softer warm tones.
FIRST RATE CUSTOMER SERVICE
Order with confidence! Jon prides himself in exceeding his customers' expectations. In addition to our stellar reputation as highly rated sellers who have been established for more than 10 years, the thousands of repeat customers who buy time and again due to the unparalleled service they have received from us are our true measure of success! We have relationships with a number of design professionals who use our work for home staging, interior design, and film and television shoots.
GLOBAL SHIPPING
We gallery wrap our quality inspected pieces and secure them for rapid transit to our happy customers worldwide.
| | |
| --- | --- |
| | |